I knew for a while there was the chance I might get to support Imogen Heap at her Berlin gig, but the date drew nearer and nearer and nothing happened. Then suddenly on Monday I got an email saying she'd love me to open for her – the next day. Just as I was giving up hope and thinking about getting a ticket. So last minute and so exciting!
When I turned up at the venue (Lido) the soundcheck had just started. I waved hello to Imogen and the others, they waved back. I was surprised how normal it all felt. It was calming to watch and listen even though time was ticking away. I had woken up with a migraine and thrown up first thing in the morning. The whole day I was so worried I might not be able to perform after all. Yet I thought, if Imogen had to get steroids to do her London gig then I could do it. No matter what. And if I keeled over on stage at least I'd have given it a shot. Luckily watching her, Ryan, Vince and Emma soundcheck blew away most of my headache. So I got changed into my stage outfit, sorted the merch and then was told to already set up my gear in front of the stage to speed things up. In the end I had about 10 minutes to set up with very little space to move around and 5 minutes for soundcheck while they held the doors. Madness!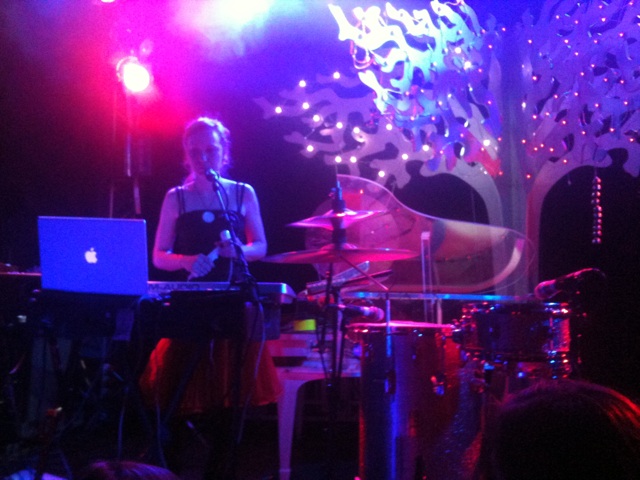 Photo by Erik Radix
Then as it was to time to hit the stage Immi kindly introduced me to the audience, explained how spontaneous and rushed everything was and beckoned them to come closer. People were still pouring in when I played. I started with 'A Little' and as I recorded my 'fake beatboxing' loop there was feedback from the mic. So I stopped and started over. Admittedly it made me nervous, but I got through the song without any more issues. Next up was 'Zero Tolerance' with drums played with wiimote and nunchuk. That went well and the audience seemed to really enjoy it (I sure did) . When I tried to record the wiimote drums for 'The Tide' next they were all over the place. It had worked perfectly at home. Whether it was shaky hands or too little distance to the computer (it works better when further away) I just couldn't get the beats right. Time was running so I decided to move on to 'In Unison' and finished with 'Breathing Underwater' after asking the sound guy how much time I had left. Everyone wanted to hear another song except for one guy who shouted at me to stop. I asked who said that (he didn't respond) and that I would come and find him afterwards. This seemed to rather amuse the rest of the crowd. A lot of people came to me afterwards to tell me they enjoyed my set including Tim Exile who came straight to the stage while me and the crew were frantically getting my stuff off stage. I had expected to get stage fright as I used to, but it's so much nicer to have a bigger audience. A little more routine with all the multitasking and I'd feel right at home on stage. Ah, to go on tour… well, working on it.
Next up was Ryan a.k.a. BackTed'n'Ted who was great. I'm so looking forward to hearing his album which unfortunately was held up at customs. Then finally it was time for Immi. She started with 'First Train Home' as usual and had to start over as well, because one wine glass was awefully out of tune. Her whole set was as amazing as expected. Emma and Vince on violin and viola were a great addition. Imogen and the two string players also took turns drumming on the cocktail kit Immi had bought just before the tour started. You could see they weren't quite as comfortable yet, but it all worked out just fine. I loved 'Just for Now' with the crowd singing the otherwise looped parts and very well at that. Don't ask me for details or a complete set list as a lot of the evening is slightly blurry. I was still on an adrenaline high. I was outside in between and didn't even feel the cold.
After the show I hung around, talked to anyone who wanted to, signed a couple of autographs (getting used to it by now, but I'm still finding it weird), Ryan even bought a copy of my album. Then I went backstage where there was tasty Indian curry, silly dancing, conversation and laughter. Everyone of them is so lovely. Immi, Ryan, Emma, Vince and the stage crew. They made me feel very comfortable and right at home. Imogen thanked me lots of times for playing at such short notice.When it was time for me to share a cab home with Tim we all hugged and said goodbye. While we loaded our gear into the boot of the car the others got ready to go on the long bus ride to Oslo. I so wanted to just hop on and go with them. Apparently the bus even has luxurious wood panelling and leather seats, but I totally forgot to have a gander.
I'm sure I've forgotten to include lots of details you might be interested in, but a remix plus vocals are waiting to be addressed and there's never enough time for all the things I want to do.
x,
Mads